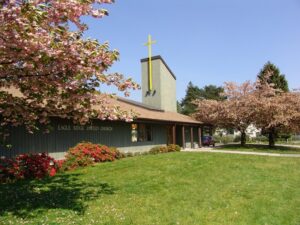 Eagle Ridge United Church began in 1983 as a calling to bring a United Church presence to the new community forming at the base of Eagle Mountain in Coquitlam.
The first worship services were held in the gymnasium of Glen Elementary school. In 1985, the congregation purchased property near the corner of Glen & Lansdowne and on April 28, 1985, the church was officially constituted. The construction of the church building was completed on September 20, 1987. The church was expanded in 1998 to its current 250 person capacity.
Throughout its history, Eagle Ridge has had an open, welcoming spirit. We seek to share the radical hospitality of Jesus to everyone who comes through our doors. The current congregation of about 300 families spans the age from newborn to 80-something. Come, be a part of our family.